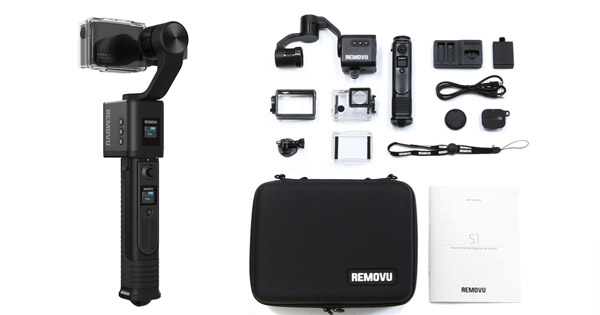 Removu may not be the best-known manufacturer of gimbal in the world, yet it offers in our view, one of the best, if not the best, GoPro stabilizer on the market. Indeed, our Removu S1 review shows undeniable benefits. This gimbal will be suitable for your control stick, your helmet or your bike's handlebars. With a very high standard product, the South Korean manufacturer makes an impression and comes shortly after the release of his Bluetooth screen, the Removu R1. Discover right now our Removu S1 review, in which we'll draw all the advantages of this excellent GoPro stabilizer.
We have been waiting too long to receive this stabilizer for our Removu S1 review. After a few weeks of unbearable wait, we finally received our Removu S1 GoPro stabilizer. This South Korean product was developed through a crowdfunding campaign which allowed to raise over $488,000. With this GoPro stabilizer, you can put the Hero 3, 4, 5 Black and Session without any problems and make perfect videos ! Now, we'll present you our Removu S1 review and trust us, you'll adopt it !
Removu S1 Review : a more than generous battery life
As always in our full tests, we start this Removu S1 review with the battery life. Our review starts very well at this level as the GoPro stabilizer will offer you an average of 5 hours of real fun use. If you don't stop filming, however, the battery life could be slightly lower. During our Removu S1 review, we were able to film during almost 4 hours before the battery of our GoPro stabilizer dropped us. However, this is very honorable when you see the use that we made of it for our Removu S1 review. Indeed, we tested it on the glacier of Stubai Gletscher, in European Alps, 2 miles above the sea level. Therefore, our Removu S1 review was done in very cold temperatures, between 14°F and 5°F. As we'll get back later on it during our Removu S1 review, the quality of the product fully withstand this kind of temperatures.
During this Removu S1 review, there is one thing that disappointed us a little. Indeed, it is a pity not to be able to charge your GoPro during the use of the gimbal, as you can, for example, with the Feiyu G4S, G5, the EVO GP PRO or even the Zhiyun Evolution. We present you all these products in our GoPro stabilizer comparison. It is the only small criticism we can do about the battery life in our Removu S1 review. Indeed, be it for the control stick, the stabilizer or the small remote control, the battery life is more than correct. Eventually, our grade for our Removu S1 review is 9.3/10 for this criterion.
A premium reliability & robustness
The second part of our Removu S1 review is, as always, the quality and reliability of the product. On this criterion once again, we were really satisfied during our Removu S1 review. Indeed, the materials used to build this GoPro stabilizer are really high-standard quality and won't break from one day to the next. Actually, it's better when you create a water-resistant product. In order to achieve our Removu S1 review, we tried to put snow on it and this wasn't affecting the quality and functioning of the 3 excellent brushless motors, composing this GoPro stabilizer.
The simple fact that this product is water-resistant shows that the South Korean manufacturer really knows hot to assemble perfectly all its parts. Everything is well linked together and it's really smooth. Our Removu S1 review is very positive at this level and we are impressed each time we use this stabilizer. As you will see later in this comprehensive Removu S1 review, a waterproof protection box comes with the entire package, for free ! . You can therefore use all GoPros from the Hero 3 and not only for the Hero 5 Black, as it's the case with the G5 Feiyu. For this Removu S1 Review, we used a GoPro Hero 4 Black.
It's probably the biggest difference between the Removu S1 and Feiyu G5. Indeed, this latter doesn't offer the protection box and you won't be able to film under the rain if you use the Hero 4 for example. Our Removu S1 review was realized in the mountains and we really enjoyed the advantage of having a protection case under heavy snowing days.
As soon as we started our Removu S1 review, we knew that we were in good hands. The quality and reliability of the product are striking as soon as it is taken in hand. The grip is really resistant and you can feel the quality. And yet, the weight is absolutely not a constraint. Indeed, the grip only weighs 70 grams thanks to very light materials. We were really surprised during our Removu S1 review on this point. Regarding the stabilizer itself, it weighs 380g. Indeed, the engines are the main weight on a stabilizer. Then you still have to add the weight of your Gopro, protection and remote control (24g, it won't kill you).
As we already said it in this Removu S1 review, we did this comprehensive test in the mountain at very high altitude and, therefore, with very demanding conditions. Despite the cold temperatures, the stabilizer worked perfectly. As a matter of fact, the manufacturer boasts that its Gopro stabilizer can work in temperatures from -4°F to 113°F, which shows how resistant it is. This is an additional proof of the quality of the materials which have been used to create it. In the end, the grade is 9.6/10 in this section of our Removu S1 Review.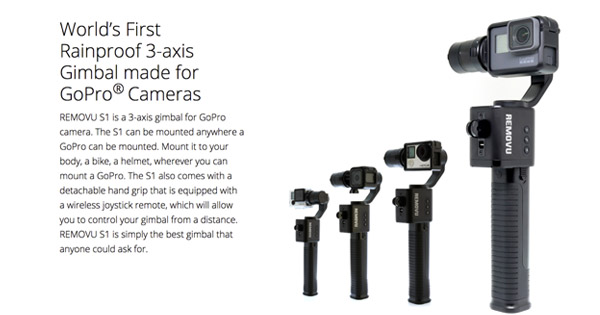 One of the best stabilization
This is certainly one of the most important section of our Removu S1 review. Indeed, the stabilization quality is obviously a criterion you need to focus on when you are looking for a Gopro stabilizer. The EVO GP PRO and Gopro Karma Grip's stabilizations are already excellent with a grade of 9.5/10. Here, it's even better in this Removu S1 review with a 9.6/10 which is just awesome. This stabilizer really pushes the stabilization to an other level. During our Removu S1 review, we went in the snowpark to do some ski jumps with this gimbal. That means, that there was a lot of room for vibration, be it for each take off or landings… And, as you can guess, the result was just too great for each situation. We couldn't find a single video on which there was a vibration to disturb us. The Removu S1 review is really positive about it ! It is very impressive to see how good the stabilization of this Gopro stabilizer is. The quality of your videos will be significantly improved thanks to it.
The very interesting point to see is that it is not only true when used on your grip ! Indeed, you'll be able to put your Gopro stabilizer on different supports that you'll see in the next section of this Removu S1 review. We tried it on the helmet, and it was so great ! Still, we were a bit disappointed of the result when you use it on the Gopro harnees that you fix our your body. But, actually, this wasn't the stabilizer's fault… indeed, we truly think that the harness use is really bad and won't give you any nice image to use for your videos edits. Therefore, the bad result we had using the harness can't be put back to the stabilizer. Therefore, it doesn't impact our Removu S1 review.
As you'll see later in this Removu S1 review, you really can fix your stabilizer everywhere you could fix a Gopro. Hence our very good grade of 9.6/10 in this section of our Removu S1 review. Indeed, we are not far at all from perfection and vibrations are just a thing of the past with this Gopro gimbal. Without losing any second, discover our 4th section which looks into the functions of this Gopro stabilizer.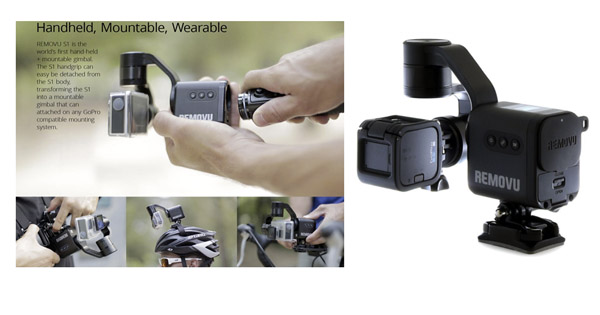 Some perfect functions
We can't ask a lot more to this excellent stabilizer as far as functions are concerned. We were really pleased during our Removu S1 review by all its different functions. As we saw earlier in this full test, you can adapt it very easily to a large choice of supports such as helmets, skis, cars, motorbikes,…and this is a considerable asset. Most of our stabilizers you'll find in our comparison are only useable with their grips. Here, the real advantage that really mattered in this Removu S1 review is that you can split the two parts, the stabilizer and the grip ! And this is so swift and easy ! We will come back on this later in this Removu S1 review to give some more precise information.
As we've already said it during this Removu S1 review, you have here a very comprehensive Gopro stabilizer which will perfectly behave to all your demands. Be it for driving, biking, skiing, skating,…well, almost every sports you can think of, you'll always manage to set this stabilizer to use it under its best functioning mode. As a result, your videos will be insane ! What we really enjoyed during our Removu S1 review was the fact of being able to shoot videos without having anything in the hands.  This would be the case with other stabilizers such as the Feiyu G4S, the Zhiyun Evolution or the Snoppa Go. In order to discover many functions of this stabilizer, you can watch this short, very well done, video which shows the versatility of this product.
Our Removu S1 review wouldn't be comprehensive if we don't talk about the most important function that this stabilizer has to offer : it is perfectly water resistant ! This point that we already saw in this Removu S1 review is very important for us. In fact, for the time being, only this stabilizer and the Feiyu G5 can protect you from water. The only difference between the two is the fact that this stabilizer will protect your Hero 3, 4 and 5 thanks to a protection box which is included for free. With the Feiyu G5, you can only use the Hero 5 Black because you don't have any box and it's the only one which is waterproof. Now, shooting videos under the rain or the snow is no longer an issue and we really liked that in this Removu S1 review. You can throw as much water as you want on it, it will still work perfectly, what a pleasure !
In the beginning of this Removu S1 review we were a bit surprised not to have a mobile application in order to control this stabilizer. Then, we tested the bluetooth remote and we directly understood why the manufacturer didn't bothered developing a mobile app. In fact, the remote is just perfect and will enable you to control your stabilizer directly from the grip, or, remotely, thanks to it's bluetooth connexion which works within a range of 30 feet. This is a real asset for this product and we truly enjoyed using it during our Removu S1 review.
Furthermore, if you own the Removu R1, the bluetooth screen which transmit the image of your Gopro remotely, then, this is the perfect winning combo. Indeed, you'll really be able to control your gimbal without any problem. Unfortunately, we didn't have the R1 for our Removu S1 review and we therefore didn't have the chance to enjoy this very nice function for our test. Despite all this, it's interesting to know that this combination exists as you can see on the video above. As you'll see, it is perfectly well thought and very easy to use. As far as the controlling is concerned, we'll look into it in the next section of this Removu S1 review.
As a very versatile Gopro stabilizer, the subject of our Removu S1 review really wins a lot of points thanks to its very nice options and, thanks to that (in particular), ranks first in our Gopro stabilizer comparison. In fact, it doubles up all the advantages of the best stabilizers and we struggle to find its weaknesses…let alone the price that we'll see at the end of this Removu S1 review. That's why we graded it with a 9.8/10 in our Removu S1 review.
A very good controlling accessible for everybody
What really pleased us during our Removu S1 review was the controlling and the taking in hand ! Indeed, the grip has an original shape compared with what the other competitors usually offer and we enjoyed it ! With its squared shape, it stays easily in your hands and you'll really have a good control on your gimbal during your sportive sessions for instance.
As far as controlling is concerned, we said it earlier during this Removu S1 review, it's so impressive ! You can so easily adapt your stabilizer to so many supports and it will work with every Gopro camera from the Hero 3 to the Hero 5 Black AND Session. Please, note that the box for the Hero 5 Black is included in the package and you'll not have to buy it separately. The Rainproof housing for HERO4 & 3/3+ is sold separately, though. In the end, switching on and controlling the subject of our Removu S1 review is a child's play.
If, like us during our Removu S1 review, you mainly want to use it with the grip, you'll easily manage to control your gimbal stabilizer thanks to the remote which is incrusted (but detachable) in the grip. Its bluetooth connexion allows you to control the moves of the motors remotely and switch from one mode to an other within a second. For this, you just have to hit the joystick. It is very practical if you want to split the stabilizer part and the grip part to fix it on a helmet for instance. With a very simple gesture, you'll separate the two parts and we really enjoyed this simplicity during our Removu S1 review.
What was also liked during our Removu S1 review was the fact of having 2 OLED screens, one on the remote and one on the gimbal stabilizer. This is very helpful is you decide to separate your stabilizer from your grip. Indeed, you'll have all the information on your remote (and on the stabilizer), that is to say the modes you are in and the battery life.
As far as the modes are concerned, as many stabilizers, we find the classic ones. The mode by default is the "pan mode" which will block the horizontal axis. The second is the one we enjoyed the most during our Removu S1 review : the "follow mode" which will always head in the direction you are looking to. It's very useful for skiing for instance, when you follow someone. Finally, the third mode is the "lock mode" and will keep the target in visual. You can move in every direction, you're Gopro will keep looking at the same spot. The 3 brushless motors will perfectly do the work in this mode.
In the end, our grade is maximal in this section of our Removu S1 Review, that is to say 10/10. With such an easy taking in hand and controlling, we can't think of giving it a lower grade. It truly deserves it !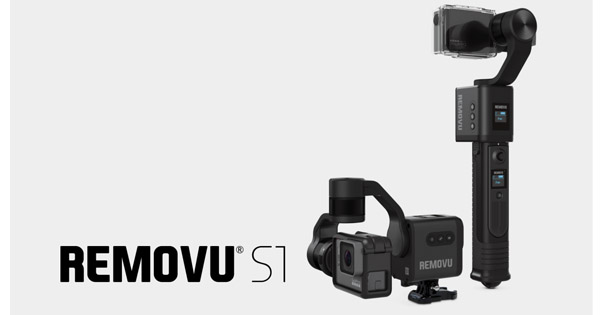 Conclusion of our Removu S1 review : the price
As you have seen all along during this Removu S1 review, we do have been pleased by this Gopro gimbal stabilizer ! For us, if we don't take the price into account, this is really THE best on the market without any doubt. It perfectly fulfills its mission and offers some perfectly smoothed and stabilized videos. Still…the price is 379$...
Even if this is above the average of the market, this is still correct when we see the performances of this gimbal. For this reason, we gave it a 7.8/10 in our Removu S1 review for this category. Just below, discover the summary of the strengths and weaknesses we talked about is this comprehensive Removu S1 test.
Pros

 : The battery life, the very easy controlling and taking in hand, the bluetooth remote, the (almost) perfect stabilization, the quality and reliability and the water resistance which will protect your Gopro Hero 3, 4 and 5.

Cons

 : The price and the lack of mobile application…but actually we don't really need it with such a good remote.
 Our Removu S1 review eventually gives the best grade with a 9.4/10.  For the time being, it is (according to us) really the best Gopro gimbal on the market and you'll struggle to find a better one in our Gopro stabilizer comparison. If you forget the price, this is really THE best according to us