Not a single month goes by without seeing a new company presenting its smartphone stabilizer. Indeed, with Feiyu, Zhiyun or DJI, there are frequently new gimbals released and they are ever more performing. Today, we present you FlowMotion One, a new iPhone stabilizer which is bound to please many of its future potential users. Indeed, on paper, it looks quite amazing and we'll need to confirm that in our FlowMotion One review.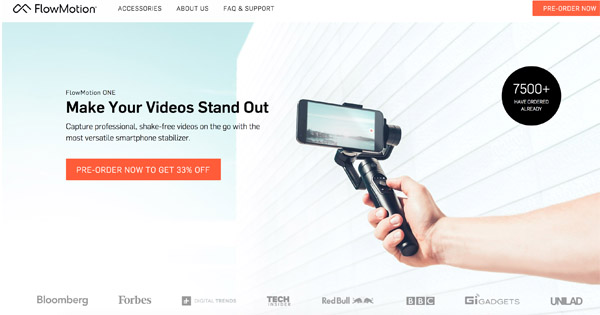 A project financed on Kickstarter
The young company, which was created in 2015 has now managed to raise $1.3M on Kickstarter, the crowdfunding platform which helps new companies to find money for their project. With this crazy $1.3M money raise, it is part of the 150th biggest project of the platform. One thing is sure, this new gimbal will definitely play as a real competitor for the existing very famous gimbals such as the DJI Osmo Mobile, Zhiyun Smooth 3 or Feiyu SPG. Indeed, it has some significant assets we are really looking forward to test for our FlowMotion One review.
Characteristics of the gimbal
Even though we haven't tested it yet, we already know quite a lot about this new iPhone and smartphone gimbal. As a matter of fact, it will have three very famous functions such as the Time Lapse, the Panoramic mode and the Tracking mode. The latter is said to be very efficient and will easily enable you to follow your target without any effort. As far as battery life is concerned, it seems to be a bit disappointing. Indeed, with its 800mAh battery, it will only enable you to shoot videos during 3 to 4 hours… As you can see in our Zhiyun Smooth 3 review, this is really bad compared to its 12 to 14 hours battery life.
Yet, we really can't wait to test the FlowMotion One and its very good mobile application. The latter will enable you to control all the wonderful functions of the gimbal. We also need to speak about its price ! If you pre-order it now, you'll only pay 229€ instead of 342€. This is definitely a great price if we compare it to competitors such as Zhiyun or DJI. Also note that there is a Gopro adaptor in order to use your gimbal with your action camera as well.
Finally, on a more technical analysis, we are quite happy to see that the FlowMotion One will have 3 axis with 345° rotation which is quite crazy ! This is way more than all the other competitors on the market. Your smartphone will have to have a width between 2.17 and 3.23in. This is quite the same than the DJI Osmo Mobile, the Zhiyun Smooth 3 or the Feiyu SPG, to name but three.
Now, we just have to wait before we receive our product in order to do our in-depth FlowMotion One review. Right now, already 7.500 products have been pre-ordered !