The DJI Osmo Mobile is certainly the best smartphone stabilizer for the time being. Indeed, as always with DJI, we have a very good product which did very well in almost our 6 criteria. Definitely, it is not perfect but it is not far from it. Discover all its strengths and weaknesses that make it one of, if not THE best smartphone gimbal.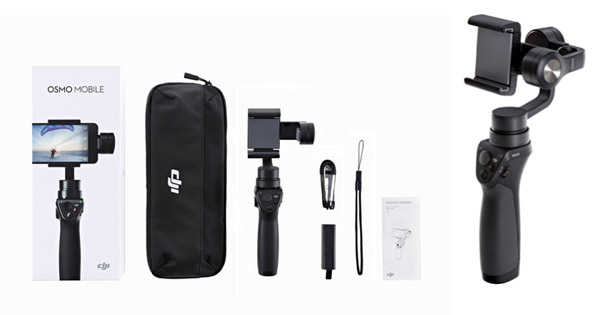 Its strengths
The first real strength of the DJI Osmo Mobile is, as always with this manufacturer, its very high quality and reliability. On this criterion, this is definitely the best smartphone stabilizer without any doubt. Indeed, the materials used to build this gimbal are top quality ones and you're bound to use it for years. The motors and the structure are really resistant and it is not about to give up on you any time soon.
The second significant strength of this stabilizer is its very numerous functions. Indeed, you'll have so many awesome functions in order to create crazy shots with your smartphone. For instance, we can think of the panoramic mode, the long exposure, the time lapse, the tracking mode or the selfie mode, to name but 5. In addition to a very large choice of functions, we also have to note that the quality of the latter is very good. This is not the case, for instance, with the Zhiyun Smooth Q which has quite a few functions but the quality is very debatable…
Even though the battery life is not the best on the market, it is still very good with approximately 5 hours of running time. Unfortunately, you won't be able to recharge your smartphone while in use contrary to the Zhiyun Smooth 3 or Zhiyun Smooth Q.
As far as controlling is concerned, the very good mobile application enables you to enjoy all the very nice functions of the DJI Osmo Mobile. As you can see in our DJI Osmo Mobile review, we also really enjoyed the grip which has a very pleasant shape for an easy taking in hand. Finally, the stabilization, is, of course, very good, even though it is not the best we have tested. If you want the best for stabilization, you'll have to go for the Zhiyun Smooth 3 or the Feiyu SPG.
The only weakness
The only criticism we can really make about the DJI Osmo Mobile is its pretty high price. Indeed, you'll have to pay approximately 300$ in order to get this awesome smartphone stabilizer. Then, if we take for instance the stabilization, this is very good but it could have been even better to compete with the Zhiyun Smooth 3 for instance. Finally, the controlling may be a bit hard in the beginning but you'll very swiftly get used to it. One thing we really enjoyed was the little trigger behind the grip in order to switch from one mode to the other. This is definitely something you'll like with the DJI Osmo Mobile !