The Feiyu G4S was the first and only Gopro gimbal able to offer a 360° rotation on 3 axis. This real strength has made it one of the most cherished gimbal over the past two years. Now, it has maybe made its time but there are still some reasons for which it is not outdated. Indeed, it really has some significant assets…and a few weaknesses. Without wasting any more second, discover what we like and don't like about it.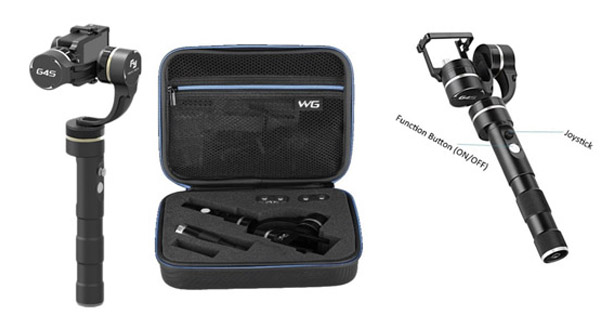 The Feiyu G4S strengths
The first thing we really do like with the Feiyu G4S is its 3 360° unlimited axis. This can seem irrelevant but it's not. Indeed, with all the other stabilizers, you want have such a freedom in your moves. With this handheld Gopro gimbal, your camera will never touch the structure and you won't have any move restriction. The second real strength of this gimbal is its quality and reliability. Indeed, it is robust and solid and won't give up on you any time soon. Witness its 2 years old of age and ours is still perfectly operational. What we also really liked during our Feiyu G4S review was the reactivity of the motors which work perfectly well.
Definitely, the price is also one of its assets. Indeed, as it is quite an old gimbal, it's now very cheap. You can get one for less than 170$, what more can you ask for ? As you'll see in our next part, the battery life may not be the best on the market, but there is something we really enjoyed. Indeed, you can recharge your Gopro while in use. Well, this is nothing crazy you'll tell us, and that's true. BUT here, you'll do it without any cable ! Indeed, you there is a micro USB port directly integrated to one of the motors. This is something we really enjoy and we kind of miss it on the new Feiyu G5…
The Feiyu G4S weaknesses
As we've told you, this is not a perfect gimbal… Otherwise, it would have an average grade of 10/10 in our in-depth Feiyu G4S review. The first thing which can be a bit disappointing (compared with other gimbals) is the battery life. Indeed, you'll have between 3 and 5 hours of running time. Well, actually, this is correct but we are very exigeant because we need to compare with other gimbals which can offer up to 12 hours of running time (Zhiyun Evolution).
The stabilization is maybe its main weakness. Even though it's far from being bad, it is also far from being the best on the market. Still, you need to take into account that this handheld Gopro gimbal is 2 years old so the technology was not as good back then… You'll definitely get some smooth and stabilized footages, but not the best you can get.
Finally, we would have liked to find more functions with it. But, one more time, it's old so we should not ask too much of it… In the end, it is still one of our favorites as you can see in our Gopro gimbals comparison.