When you buy a gimbal stabilizer, you need to check for what is really important to find the best. As you can see, there are quite a few references on the market and we are still counting. Not a month goes by without seeing one of the key player (DJI, Feiyu, Zhiyun, Gopro, Removu, EVO, Ikan, Snoppa,…) releasing one new very innovate and performant product. To find the bests, discover our 6 criteria we always take into account for our in-depth reviews.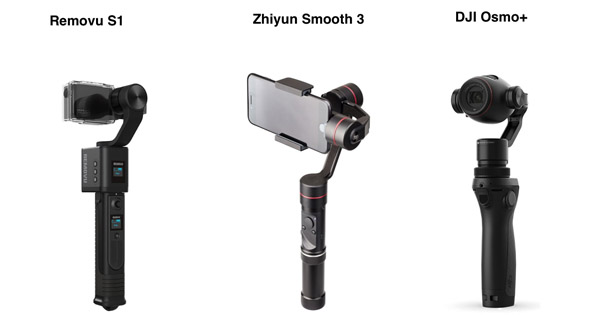 The battery life
The first thing we always want to check when we do our in-depth reviews is the battery life. Indeed, this is maybe the most important criterion when you are going to choose a gimbal. As a matter of fact, there would be no point in having the best Gopro gimbal, if it is not able to last more than 30 minutes… Most of the time, you'll have a few hours or more than 10 hours for the best gimbals that you'll find on our website. When you are going for a smartphone or Gopro gimbal, always check if you'll be able, or not, to recharge you camera while in use.
The quality and reliability
The second criterion that you should take into account when choosing your gimbal is the quality and reliability. Indeed, you'll find both some very high-end products and low costs ones. Therefore, if you want to have something that will last in time, you should go for a DJI, Gopro or Removu gimbal. Indeed, these are some very high-end manufacturers and you're sure that the quality will be there ! But, as you can guess, you'll have quite an expensive price in return.
The stabilization
Definitely, this is something you'll want to know ! How good is the stabilization of the gimbal I'm about to buy ? This is sometimes quite hard to analyse as many gimbals offer very very good stabilization. Still, there are some which are sometimes better than others. For instance, if we take for instance the Zhiyun Smooth 3 that you can find in our smartphone gimbal comparison, it offers a way better stabilization than its little brother, the Zhiyun Smooth Q. Still, when you check our Gopro gimbals, many products are very close. For instance, the Removu S1, Gopro Karma Grip and EVO GP PRO got 9,6/10, and 9,5/10 in our "stabilization" section.
The functions
Even though this is not the most important criterion, it is always nice to have a gimbal with a few interesting functions. For instance, some Gopro gimbals are water resistant or can separate the stabilizer from the grip to fix it everywhere. As far as smartphone gimbals are concerned, you'll find some interesting functions such as the Tracking Mode, the Panoramic Mode, the Long Exposure Mode,… The same goes for DSLR gimbals and camera with integrated stabilizer such as the Feiyu Summon+ or the DJI Osmo+.
The taking in hand and controlling
Our 5th criterion is always about the taking in hand and the controlling of the gimbal. Indeed, there is no point of having a very good gimbal if you are not comfortable with it or if it is too hard to use. All the products we present are pretty easy to use. Yet, as far as taking in hand is concerned, some disappointed us a little. Indeed, sometimes, the grip is really too short or slippery… This is also a very important criterion you should take into account when you'll choose your gimbal.
The price
Of course, the price is something you should really analyse when you'll buy a gimbal. Indeed, be it for Gopro, smartphone, DSLR gimbals or for cameras with integrated stabilizer, the prices are very variable. As a matter of fact, you can find some Gopro gimbals at 150$ or 450$. Same, for smartphone gimbals, it goes from 139$ to more than 300$. DSLR gimbals can be 300$ as well as 1.000$. When it comes to stabilized camera, the gap is even bigger. Indeed, you'll find some between 200 and 4.000$.
Now, you know everything you should to find the best gimbal with the analysis of these 6 criteria. We hope that this article was helpful and we truly thank you for your visit.
Discover the DJI gimbals on :