Nowadays, thanks to new technologies, rain and snow are no longer an issue when you want to shoot videos. This is also true when you are using a Gopro gimbal. Indeed, there are now 2 stabilizers which enable you to use your action camera under heavy rain or snow while being stabilized. The Removu S1 and the Feiyu G5 definitely offer one of our favorites asset and we'll present to you these two Gopro gimbals that are water resistant.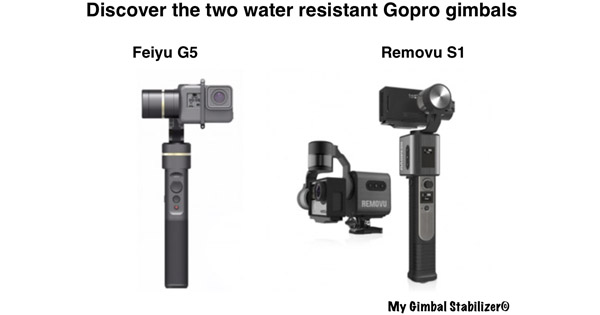 The Feiyu G5
The Feiyu G5 is a Chinese Gopro gimbal which was created to replace the Feiyu G4S which has known a worldwide success. There were two reasons for this change. The first one was that the G4S was unfortunately not compatible with the latest Gopro Hero 5 Black which is waterproof. Therefore, every user who owned the G4S could never buy and use the Hero 5 Black with it. The second reason was to create a Gopro gimbal which could work under water. And this is what Feiyu did perfectly. Indeed, you'll be able to shoot every video you want no matter how bad the weather is.
Please, note that the fact that your gimbal is water resistant does NOT mean that it is waterproof. Indeed, if you try to go in your swimming pool with it, you'll totally destroy it. The "Splash Proof", as its manufacturer called it, only means that it allows water splashes but nothing more. Unfortunately, the only action camera with which you'll be able to take advantage of the Feiyu G5's Splash Proof is the Gopro Hero 5 Black… To know more about this very good Gopro gimbal, we invite you to read our Feiyu G5 review.
The Removu S1
The second Gopro gimbal which will enable you to make incredible videos under rain and snow is the Removu S1. This stabilizer comes from South Korea and currently ranks first in our Gopro gimbal comparison. Indeed, it offers quite a few very interesting functions. Among them, the water resistance is really one of our favorites. As a matter of fact, like the Feiyu G5, you'll be able to use it under water. The very important difference, here, is that you'll be able to use it with different Gopro cameras. Indeed, if you want to use the Hero 5 Black, there won't be any problem as this camera is waterproof. BUT, here, for Hero 3 and 4, you'll have a waterproof case which will enable you to take advantage of the water resistance of your gimbal with any Gopro Hero since the model "3". This is definitely something we enjoyed as we usually do all of our tests with the Hero 4 Black.
As you can see in our Removu S1 review, this is only one asset of this awesome Gopro gimbal. We strongly recommend you to read our Removu S1 review if you want to know more about this gimbal stabilizer.