The Gopro Karma Grip is definitely one of our favorites Gopro gimbals. The American manufacturer really did a good job about it and we truly appreciate many things with this stabilizer. Yet, it still has some weaknesses that explain why he's not on a better place in our Gopro gimbal comparison table. Discover all its assets and weaknesses without wasting any second.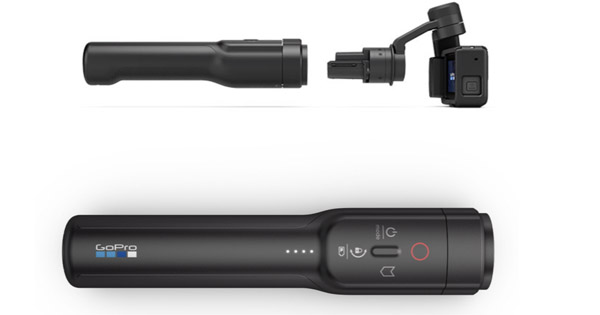 Quite a few interesting assets
First, when we talk about the Gopro Karma Grip, the first thing that comes to our mind is stabilization ! Indeed, this is certainly its main strength and we truly enjoyed using this gimbal during our Gopro Karma Grip review. Indeed, the stabilization is really insane and got a 9.5/10 in our review. This is the second best stabilization on the market, just behind the Removu S1 which got a 9.6/10. This gimbal is really well designed for action sports videos. If so many freeskiers use it for their videos, it's not without any reason. Every vibration you could met will disappear with this gimbal and we were so impressed by the quality of the video.
But that's not all ! Of course, the Gopro Karma Grip has other assets such as it's very good quality and reliability. Indeed, we've been used to high-end product with this manufacturer which has been offering us very good action cameras for years now. The grip is really robust and we truly enjoyed it. We can also mention the numerous functions among which we are forced to talk about the fact that you'll be able to separate the grip and the stabilizer. This is very useful as you'll be able to fix your stabilizer on a helmet or any other support. The only constraint is the length of the cable : 35 inches… This limites a bit your freedom, but it is still very pleasant. Please, not that the Gopro Karma Grip extension cable is not included when you buy this gimbal. Therefore, you'll have to add 130$ to get it… This is a bit of a shame as the Removu S1 (which works remotely via bluetooth) or the Ikan Fly X3 Go (which works with a 59 inches cable) do include this in the package…
Finally, its last very important asset is the fact that, obviously, it works perfectly with the Gopro cameras. Everything has been very well designed in order for you to have the best possible control directly from your grip. Thanks to the 4 different buttons, you'll never have to touch your Gopro while in use, and we honestly really enjoyed this during our Gopro Karma Grip review. This is certainly the gimbal stabilizer with which you'll have the best control on your Gopro.
A few weaknesses
Well, as you've seen, this gimbal has some very good reasons to please you. Yet, this is not the best Gopro gimbal you'll find on the market because of a few weaknesses that make it less appealing. Indeed, first, it has the worst battery life you can find for the time being. As a matter of fact, you'll have a maximum of 1h45 minutes of running time, which is really limited. For a comparison, the first gimbal of our ranking, the Removu S1, will last 5 hours, and the best (in terms of battery life), the Zhiyun Evolution, can last up to 13 hours.
The second criticism that we can make about the Gopro Karma Grip is its price. Indeed, it's now 299$ on internet. This is quite correct, we do agree. But, the other face of the coin is that you'll have to buy other batteries AND the Gopro Karma Grip extension cable if you want to use the separation between the grip and the stabilizer. In the end, this is approximately 450$ which is by far the most expensive Gopro gimbal you'll find.
To conclude, even though its price is very high and it has a very bad battery life, we still really do like this gimbal. Indeed, for the battery life issue, you can buy other batteries. And for the price, that won't matter for people who are willing to pay as much as they are asked for. These 2 criteria let alone, this is certainly one of, if not THE best Gopro gimbal you can find. Yet, it maybe lacks a few functions, such as the water resistance to be THE best Gopro stabilizer.
Here you can see a video that shows ho good the stabilization will be with this gimbal. This was shot with the Gopro Hero 5 with this gimbal and you can see the cameraman jumps next to the skier, the stabilization is almost perfect (on take off, during the air time and on the landing) :
Triple 1440 followcam! My One Day at 9Royals is on Youtube!! Youtube ??? https://www.youtube.com/watch?v=ztDuBW6gosI#oneday #9royals #gopro #skiing #subscribe

Publié par Andri Ragettli sur mercredi 12 avril 2017